ThinLINE Hydraulic Torque and Ratcheting Wrenches
Ratcheting Hydrualic Wrenches for applications with clearance issues
---
Use with wellheads, blowout preventers, heat exchanger channel heads and piping flanges
---
< back to SPECIALTY TOOLS main page
< back to PRODUCTS main page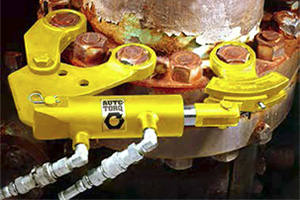 • Fits easily in tight spaces
• Thinner than the nut height
• Light weight, "best power to weight ratio in the industry."
• Interchangeable wrench heads and reaction units available for any nut size
• Torque range up to 138,250 ft. lbs.
• Custom designs available
• Stack Sockets & Inserts
APPLICATIONS
• Wellheads
• Blowout Preventers
• Heat Exchanger Channel Heads
• Piping Flanges
• Restricted Spaces

SAFE:
The cylinder is engaged during both
power and retraction strokes, insuring
safety of operation.

DURABLE:
Simple, strong, in-line precision-cast
stainless steel components provide
maximum dependability.

UNIQUE:
Provides torque in both the "push"
and "pull' modes. Each wrench size is
engineered to fit on all standard ANSI
and API flanges.

VERSATILE:
Interchangeable wrench heads
and reaction units are available for
standard nut sizes within each ThinLINE
series. Larger or smaller sizes can be
customized. Metric and Imperial sizes
available.

PRACTICAL:
Fits easily in tight spaces where there
are obstructions above the nuts. The
wrench is thinner than the nut height.

FAST & EFFICIENT:
Delivers 60º turn of the nut before
resetting the wrench.

LIGHT-WEIGHT:
The best power to weight ratio in the
industry.

CUSTOM DESIGN:
Custom designs available for any
application.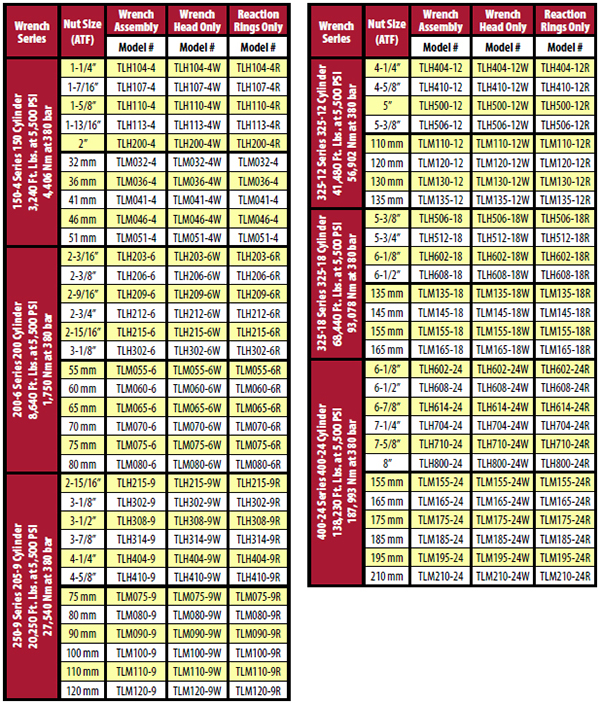 610A Power Unit for ThinLine Wrenches