Hydraulic Torque Wrenches
Hydraulic Torque Wrenches from Torq/Lite®
---
Hydraulic Torque Wrenches - InLine, Square Drive & Jam Nut
---
Torq/Lite's tools are the choice of professional service companies world wide. In the world of bolting, time is money. Not having to stop work is the most valuable benefit of any tool. Their durable design and low maintenance means less worry for the operator. Minor breakdowns from wear are easily solved in the field so work can continue promptly.
Each wrench was designed by Torq/Lite's engineers, but perfected by field operators. These are the "tools that always fit and never quit".
Torq/Lite, as a bolting technology leader, goes beyond the demands of its ISO 9001:2008 registration by insuring that field personnel have the most durable and reliable tools made.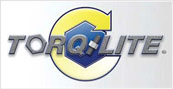 Inline IU-XL Hydraulic Ratchet Wrenches are extra light, dependable, and fit where other tools can't.
Square Drive SU_XL Series Ratchet Wrench has a lightweight unibody of the SU-XL Series Square Drive Hydraulic Wrenches eliminates "Pinch Points," and has a completely enclosed Drive-Train Assembly.
JN Series Hydraulic Wrench originally developed for compressor Jam Nuts and Top Drive Nuts, has been used successfully on nuts have obstructions running through their center, such as a shaft or rod.
Now, bolting verification and accurate record keeping for every bolt torqued can be logged with the smartTORQ digital system.
Use the EZ-Back Backup Wrench with any torque wrench to make backing up easy and safe. The EZ-Back design allows the operator to release the stress of the backup in seconds by simply turning a screw located at the top of the handle.