Hydraulic Flange Closing Tool
Flange Closing/Pulling Tool - with Ratchet Nut Technology
---
Compact, Lightweight and Powerful, use to Pull Flanges Together for Bolting Up. Excellent for Vertical Flanges.
---
< back to FLANGLE ALIGNMENT & SPREADING TOOLS overview
< back to PRODUCTS main page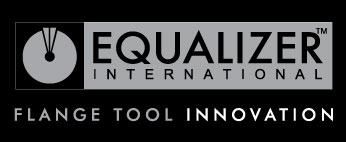 The Flange Closing Tool (FC10TE) is a simple light-weight hydraulic tool used to pull any size or type of flanges together . These flange pullers are used during commissioning, construction, routine maintenance, shutdowns, outages and valve change-outs.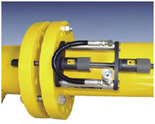 Although a minimum of two Flange Closing Tools are recommended, any number of flange pullers can be used simultaneously to provide the pulling force required for an application.
Note, when flange joints are nearing closure and misalignment becomes an issue, an Equalizer Flange Alignment Tool can be employed to quickly and safely bring the flange joints into alignment.
Looking for a RENTAL alternative? See our solutions for Turnarounds and Major Maintenance Projects here...
Operating the Flange Closing (Pulling) Tool
Below, are two flanges requiring closing or pulling together.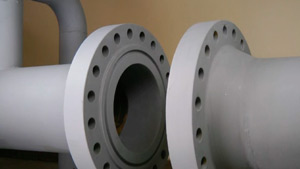 First, insert the PULL RODS through the flange bolt holes, with one on each side of the flange.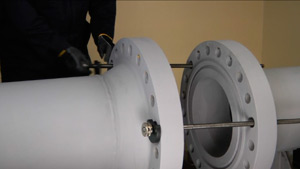 Next, slide the ASSEMBLIES onto the rods at the open ends.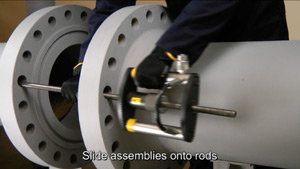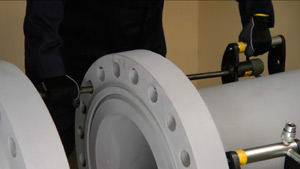 The REAR (SECONDARY) NUT is slid over the pull rod and locked into position.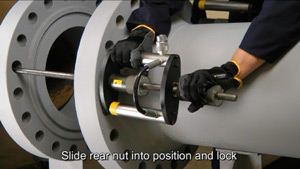 Connect the DUAL HYDRAULIC PUMP's HOSES to each assembly.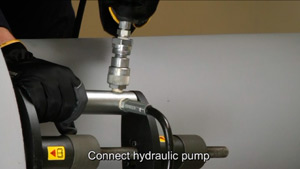 At the pump, close the RETURN VALVE and prime the pump.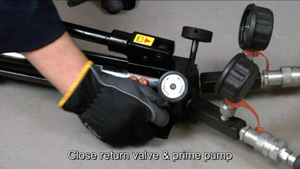 Cylinders will advance, pulling the joint together.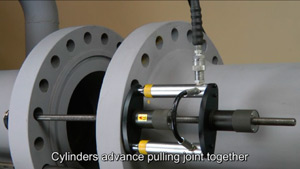 Retract the cylinders and the FRONT NUT will retain the load, while the REAR NUT ratchets forward with the cylinders.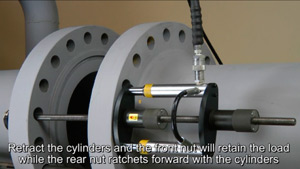 Repeat the process until flanges are fully pulled (closed) together.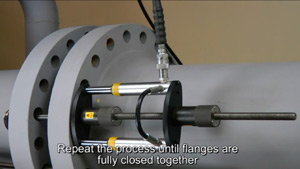 Once the flange joint has been fully closed - with the FC10TE still in position, insert and tighten as many bolts as possible.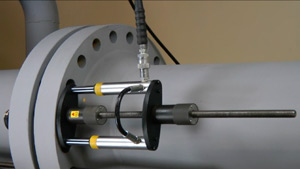 FC10TE - Hydraulic Flange Puller - Closing Tool

CLOSING FORCE: 10 T (100 kN) per tool
CLOSING DISTANCE: From 600mm (23.5") to 0
TOOL WEIGHT = 11Kg (24.25lbs)
DATA SHEET (PDF)
MAXI KIT COMPONENTS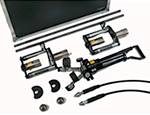 2 x FC10TE Tool
4 x 10,000 psi (700 bar) 5T Hydraulic Cylinders
2 x 10,000 psi (700 bar) Hydraulic Hose
1 x 10,000 psi (700 bar) HP350D Hydraulic Hand Pump
1 x Instruction Manual
1 x Carry Case with Foam Inserts
Product Code: FC10TEMAX
STANDARD KIT COMPONENTS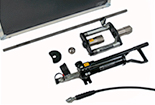 1 x FC10TE Tool
2 x 10,000 psi (700 bar) 5T Hydraulic Cylinders
1 x 10,000 psi (700 bar) Hydraulic Hose
1 x 10,000 psi (700 bar) HP350S Hydraulic Hand Pump
1 x Instruction Manual
1 x Carry Case with Foam Inserts
Product Code: FC10TESTD