Flange Alignment & Flange Spreading Tools - an Overview
Tools and Technology for safer field work
---
Safety guidelines are easy to follow with the proper tools.
---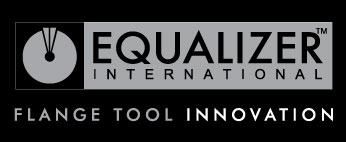 Alignment and Leveling - Flange Spreading - Flange Closing
For over 20 years, Equalizer International has designed and manufactured mechanical and hydraulic flange maintenance tools to service bolted flange joints on pipeline, valves and other fluid processing and transfer equipment. The full range of innovative tools provide fast, safe, cost effective and simple solutions to flange alignment, flange spreading, flange pulling (closing) and precision lifting.
Quality Engineered Solutions are at the very heart of Equalizer's tools. They are used around the world, every day, providing operators with time saving solutions to flange maintenance problems. The tools are ideal for offshore, subsea and onshore commissioning, construction, maintenance, shutdown or turnaround projects, within the oil and gas, petrochemicals, nuclear, water, mining and renewable energy sectors.
Safety and Portability
With the introduction of the Equalizer flange tools, those tasked with handling flange alignment, spreading and pulling projects can now be confident in using a totally safe solution.
Equalizer tools are portable and have been designed to be easily transported and set up. They are easy to use and have clear safety instructions, overcoming many of the dangers associated with traditional flange working practices.
Traditional Methods vs. Equalizer's Innovations
Alignment, Lifting and Leveling Tasks

Flange alignment and load leveling is a dangerous and expensive operation because it requires the operator to deploy an unknown amount of force in a controlled and precise manner. Equalizer's tools provide the means of achieving this with simplicity and unprecedented safety.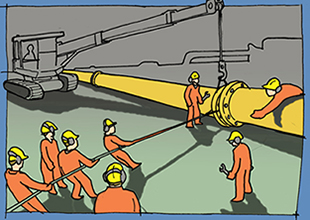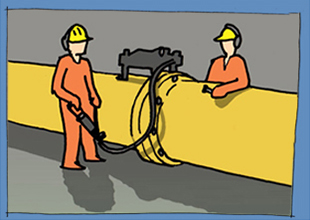 Traditional methods of fixing misalignment and leveling involve:
High Risk
Dangerous
Time Consuming
Complex
Expensive
Labor intensive
Benefits of using Equalizer's alignment and lifting tools:
Safe
Simple
Inexpensive
Powerful
Fast
Flange Spreading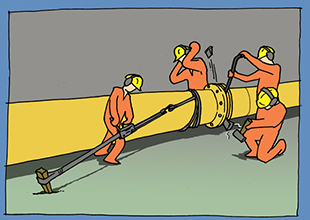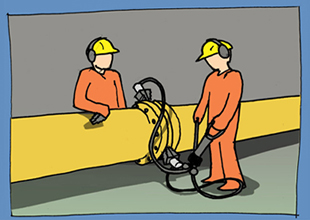 Manual tools are imprecise and pose high risk of damage to flanges and injury to personnel.
High Risk
Hazardous
Inefficient
Complex
Damage to Flange
Labor intensive
Equalizer's flange spreading tools employ wedges and a sealed external hydraulic pump to securely force the flange faces apart under control.
Safe
Simple
Inexpensive
Powerful
Fast
---
Equalizer's
Tool Range
Features
Models
Force
Weight
Power
Flange Alignment Tools
Will resolve lateral or rotational misalignment
Precise Aligning with minimal time and personnel
Mechanical and Hydraulic options Lightweight and portable, ideal for remote locations or confined environments
FA1TM
10kn (1T)
1.6kg (3.5lb)
Mechanical Crank Handle
FA4TM
40kN (4T)

8.6kg (19.0lb)

Mechanical Ratcheting
FA4TE
90kN (9T)
14.5kg
Hydraulic External Pump
Mini Gap Spreader
Requires only 2.0mm (0.08") access gap
6.8T (68kN) Spreading Force
Great for smaller, lower pressure flange joints
MG7TM
68kN (6.8T)
5.0kg (11.0lb)
Mechanical Crank Handle
Original
Spreading Wedges
For flange joints with a minimum access gap of 6.0mm (0.23")
Spreading distance of up to 81.0mm with Stepped Blocks
SW9TM
90kN (9T)
5.5kg (12.13lb)
Mechanical Ratcheting
SW15TE
115kN (15.5T)
7.0kg (15.4lb)
Hydraulic External Pump
SW14.5TI
145kN (14.5T)
9.0kg (19.8lb)
Hydraulic Integral
NEW - Innovative Spreading Wedges

Same great spreading wedge as above, but with new innovative modifications for an even more effienct tool.
Pinch Points have been eliminated, fewer moving parts, greater spreading distance, increased spreading forces, swivel handles and safety lanyard.

SWi1214TM
120/140 kN (12/14T)
6.2kg (13.7lb)
Mechanical Ratcheting
SWi2025TE
200/240 kN (20/25T)
6.4kg (14.02lb)
Hydraulic External Pump
SWi2025TI
200/240 kN (20/25T)
8.5kg (18.8lb)

Hydraulic Integral Pump

Sure-Grip Spreaders
Use on flange joints with no access gap (zero gap), when contacting the flange faces is a concern and when a spacer, wafer or butterfly valve is positioned between the flanges.
Employs Equalizer's patented expanding collet technology for safe separation of flange joints that have little or no access gaps with its secure bolt hold locking mechanism.
Collets expand and grip the flange's bolt holes eliminating the need for a gap between flanges for spreading.
Virtually universal, will spread any ANSI/SAME, DIN, SPO, API or BS flange.
SG4TM
37 kN (3.7T)
4.5kg (10.0lb)
Mechanical Ratcheting
SG6TM
60 kN (6T)
7.5kg (16.5lb)
Mechanical Ratcheting
SG11TM
110 kN (11T)
10.5kg (23.2lb)
Mechanical Ratcheting
SG13TE
130kN (13T)
21.5kg (47.3lb)
Hydraulic External Pump
SG15TE
150 kN (15T)
26.0kg (57.3lb)
Hydraulic External Pump
SG18TE
180 kN (18T)
14.0kg (30.8lb)
Hydraulic External Pump
SG25TE
250 kN (25T)
24.0kg (52.9lb)
Hydraulic External Pump
Flange Closing Tool -
Closing Solutions
Simple, Lightweight Hydraulic tool used to pull together flanges prior to the application of bolts
Can pull flanges together from a distance of 600.0mm (23.62") down to 0.0mm (0.00")
Any number of Flange Closing Tools can be used simultaneously to provide greater pulling loads
Can be used on all vertical and horizontal flanges
Designed around tandem hydraulic cylinders
FC10TE
100kN (10T)
11.0kg (24.25lb)
Hydraulic External Pump
Vertical Lifting Wedge
Designed to lift or lower objects in a straight, vertical motion.
Will lift an object in a stable movement from an access gap of only 9.5mm (0.37") to a maximum height of 67.5mm (2.66")
VLW18TE
180kN (18T)
8.5kg (18.7lb)
Hydraulic External Pump
VLW18TI
180kN (18T)
12.0kg (26.5lb)
Hydraulic Integral
---
Equalizer Sealed Hydraulic HAND PUMPS - Multi Positional, Non Spilling

Each series available in either 350cc, 550cc or 1000cc oil capacity.
Can be used in any orientation, as well as on or offshore.
Diaphragm Oil Reservoir allows pumps to be operable at all angles and are highly resistant to accidental oil spillage of hydraulic fluid.

S - Series
D - Series
SD - Series
Two Speed - Single Port
10,000psi (700bar)
Model Numbers:
HP350S, HP500S &
HP1000S
Two Speed - Twin Port
10,000psi (700bar)
Model Numbers:
HP350D, HP500D &
HP1000D
Two Speed - Double Acting
10,000psi (700bar)
Model Numbers:
HP350SD, HP500SD & HP1000SD