Hot Tapping & Line Stop Equipment
Enerteq provides expertise in the planning and manufacture of fittings for Line Stop and Hot Tapping.
---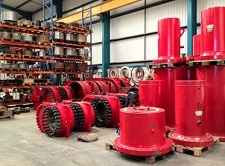 What is Hot Tapping?
In natural gas transmission and distribution systems, it is frequently necessary to relocate or expand existing pipelines, install new valves or repair old ones, perform maintenance or access lines during emergencies. Historically, it has been common to shut down the portion of the system during the alteration and purge the pipeline to ensure a safe connection.
The impacts associated with performing a shutdown interconnection are both economic and environmental. Gas vented from the pipeline segment represents a loss of product and an increase in methane emissions. In addition, removing a pipeline segment may cause gas service interruptions to customers.
Hot tapping is an alternative solution that safely ties into a pressurized system (pipeline or other pressure vessel) while it is on stream and under pressure. Hot tapping is also referred to as line tapping, pressure tapping, pressure cutting and side cutting. The process involves attaching branch connections and cutting holes into the operating pipeline without interruption of gas flow, and with no release or loss of product. Hot tapping permits new tie-ins to existing systems, permanent or temporary bypasses, and is the preparatory stage for line plugging or line stops.
The primary equipment for a typical hot tap application includes a drilling machine, a branch fitting, and a valve. The drilling machine generally consists of a mechanically driven telescoping boring bar that controls a cutting tool. The cutting tool is used to bore a pilot hole into the pipeline wall in order to center a hole saw that cuts out the "coupon", or curved section of pipeline wall. Connection to the existing pipeline is made within a fitting, which can be a simple welded nipple for small (one inch) connection to a larger pipeline, or a full-encirclement split-sleeve tee when the branch is the same size as the parent pipeline. The valve on a hot tap connection must allow the coupon to be removed after the cutting operation. Suitable valves include a ball or gate valve, but not a plug or butterfly valve.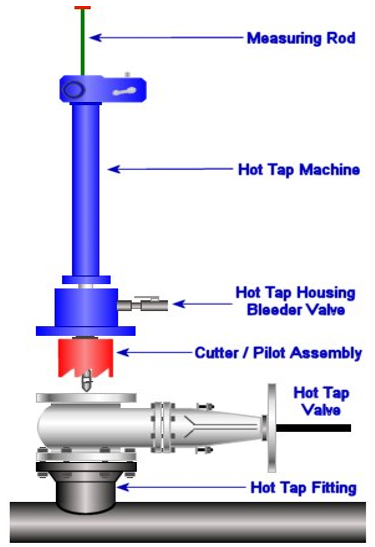 Our team will work with you from product recommendation to installation and ensure you receive a quality product with quality service. Click the links below for more detailed information on our Hot Tapping Equipment.
Line Stop, Hot Tap Fittings & Equipment
Hot Tap Machines & Accessories
Slim Valves (AKA Sandwich Valves)