Equalizer's Spreading Wedges - JAWS maintenance
---
08/16/2012 in Equalizer International, Flange Spreaders, Maintenance
---
The Jaws Section is common to all the Spreading Wedge Flange Spreaders in Equalizer's line. Occasionally it is desirable to thoroughly inspect the tools used. They may need lubrication, cleaning or parts replaced after high usage, exposure in gritty environments or subsea work.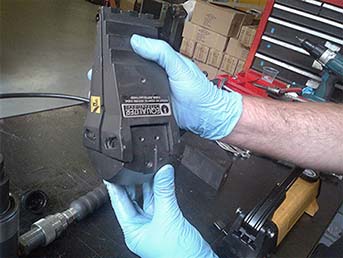 There are important things to keep in mind in servicing or requesting parts, notably, the importance of remembering that Loc-Tite compound is used in several places to insure that those pieces do not back out and damage the tool during operation.
When removing any parts that are secured with Loc-Tite, the compound must first be softened with high heat from a torch. Not doing so can permanently damage the tool. See the Repair Manual for Spreading Wedges.
Steps to Removing the Wedges from the Spreader
The first allen screw removed in disassembly is located underneath the jaws and on the side of the solid traveling wedge. It can be seen in the picture below.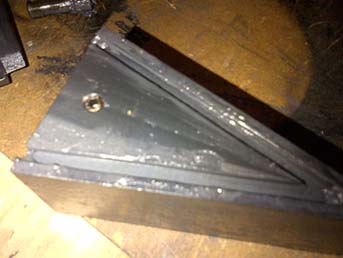 This screw holds the wedge to the cylinder's push pin. In order to remove it, heat must be applied to soften the Loc-Tite compound (i.e., using a torch). If you try to remove it without heating you will run the risk of rounding off the top of the allen screw and likely the tool will must be discarded.

Next, there are four (4) other allen screws that hold the Jaws on the tool. To access these, remove the quality stickers or puncture them, as shown in the picture, on the top part of the tool and beneath.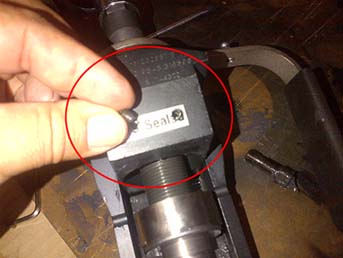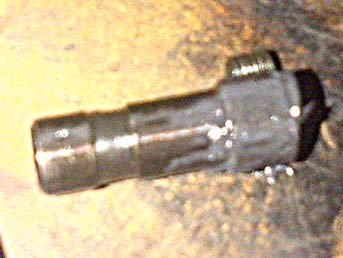 The presence of the stickers eliminates the need for these to have Loc-Tite compound and they will come out easily. The jaw pins can then easliy be pried out with a screw driver and the entire jaw assembly will be apart.